Last night my library had our first
National Novel Writing Month
event. Yes, we're aware that it's not November yet! At this event we simply introduced the idea of
NaNoWriMo
and helped patrons get registered for the challenge. We had about 50 people show up and almost all of them stayed to register! We also had some resources available for everyone to check out. I highly recommend reading
No Plot? No Problem!: A Low-Stress, High-Velocity Guide to Writing a Novel in 30 Days
by Chris Baty (the founder of NaNoWriMo) if you plan to take on this crazy challenge.
We also had a visit from a local author,
Jamie Carie
, who writes historical inspirational romance novels. She talked about the research she does before writing a book and the brainstorming about characters that takes place before the actual writing begins. She answered some questions from the audience and then stuck around to sign books and talk to people one-on-one. She even donated some signed books to the library as well. How sweet is that?
Here are some photos of a book display I put together with some resources for aspiring novelists. I'm glad a librarian had a jumbo pencil for me to borrow - there are not a lot of props involved with novel writing. A laptop might get stolen...haha. Maybe I could go back and add a coffee mug...caffeine is definitely a necessity for novel writing, right?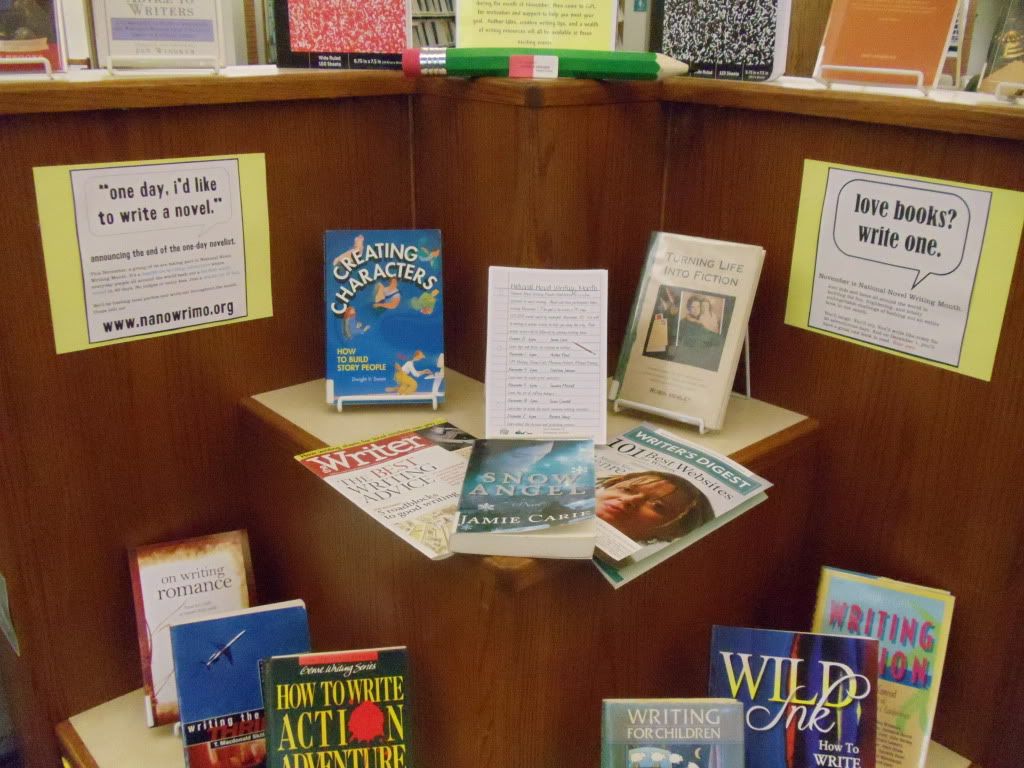 (This side has a list of published authors whose first draft began with NaNoWriMo!)
Is anyone taking on the challenge of NaNoWriMo this year?